Sunday was my birthday.  We had cake.  Lots of cake.  In fact, I had cake with my dinner last night.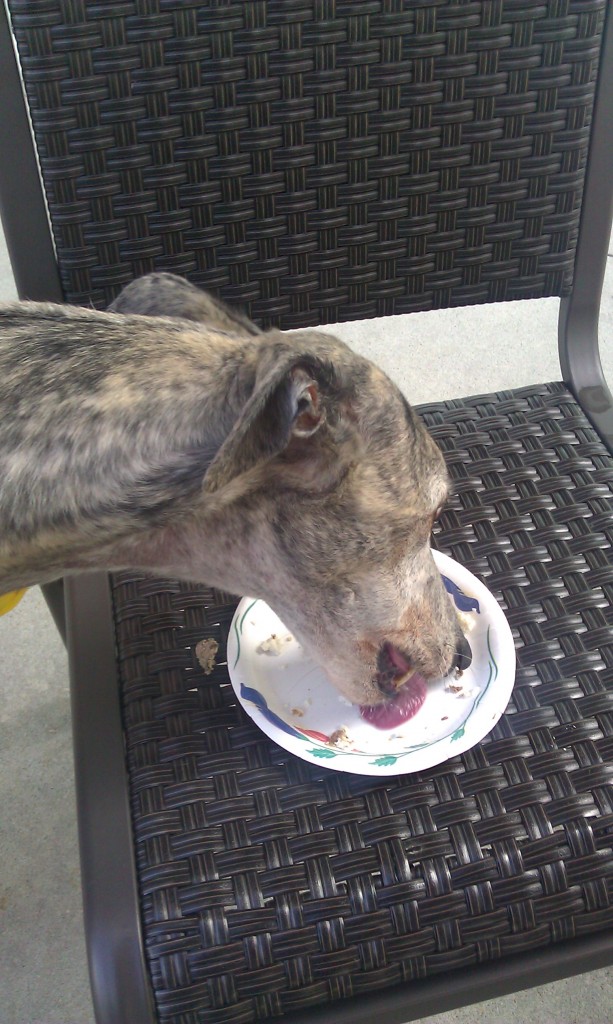 I've actually been doing quite well overall.  I am done with IV Chemo!  Round 5 was a week ago yesterday and it was the hardest one yet on me physically.  Cerenia, the miracle drug, came to my rescue every day last week.   Two weeks ago, my most recent chest xrays were clear!  This was great news for my humans.  Many of the dogs we know that had amputations around April have already crossed the bridge or are preparing to.   Deuce is gone.  It is hard on my human and she rarely sleeps in her own bed at night.  Cookie and I have just become used to her sleeping with us.  We could live without the snoring but she says she could live without the gas.
Round 4 was the worst mentally.  I figured out that the IV drip was what was making me sick and didn't want to go back to the vets.  Normally, I give out kisses and snuggle with the ladies but I couldn't that time.  All I could do was lay on the table and sigh.  It broke everyone's heart and they gave me lots of kisses but they didn't have to feel like crap for several days.  That queasy feeling lasted more than a week and I had a hard time even drinking water.  Adding low sodium chicken broth got my interest up but I still felt gross when I drank.  I even skipped a meal.
When I went in for my final round, I was treated like a rock star.  Everyone was so happy and all smiles!  I could not let my fans down so I gave out kisses and more kisses.  Once the drip was done, I jumped up and had a victory lap around the office.
We delayed my fifth round by 5 days because my humans, both of them, had to go out of town for a day.  We had a dog walker come by and that was fun.  She set off the alarm to the house somehow.  My humans didn't give her the password so it got complicated for her.  Dogs wanting to say hi, the alarm going off, and the alarm company demanding to know who she was.  The humans left her two pages of typed instructions but nothing about if you hear beeping when you walk into the house, the alarm is still on.  Or if you accidentally set off the alarm, the password is:  Silly humans.
It was very hot out that day and when she came to walk us at noon, we ran outside to potty and then ran back inside to our beds.  We were out just a few minutes.  The dog walker called my humans to ask if this was normal.  Of course it is normal.  We are greyhounds!  We need our Air Conditioning.  And a comfy bed.  And a pillow.  And a blankie.  And a toy….
Someone didn't look behind them before backing out of their parking space and destroyed the bumper on our car.  We are fine because no one was in our car.  While the car was in the shop, everything had to be taken out of the car.  My big mattress topper was put in the living room in my favorite spot under the windows.   The car has been back a week but the topper is still in my living room.  I think I know what I'm getting for my birthday!
I love this spot by the windows because I can observe everything in the house.  Just cause I lost a leg doesn't mean I lost my job!  I still guard and protect.
Sorry they're so grainy but you can see me investigating a noise outside.  Very serious business.
Back to my birthday.  There is also talk about getting me a stroller so I can go on longer walks with Cookie.  The area we liv in is NOT flat so there is some question on how well my human can handle a 30 lb stroller with a 70 lbs greyhound in it.  They've narrowed the choices down to the houndabout II and the expedition:
http://www.thedogoutdoors.com/dog-bicycle-trailer-houndabout.html
http://www.1800petmeds.com/Expedition+Pet+Stroller-prod458145.html
I can't tell by just the picture and want to try one out.   I am actually a very tall and thin guy and the houndabout seems like it would be more comfortable for me.
In three weeks, we're going to Aunt Janet's house to spend a few days near the ocean.  Janet has the most amazing house.  It is ranch home with a big open floor plan.  A big great room full of dog beds, a sun room to enjoy the sun without the bugs, and big fenced in back yard.  Janet was in the military and it shows.  She makes us mind and even my humans obey her!
We like road trips.