My 12th birthday just past on the 19th.  My birthday always makes my humans smile because it is the start of my diva ways and the first time I displayed my skills as a Jedi Master.
In 2010, my birthday fell in the middle of the week.  We went out on Saturday, the 21st, to Greyhound Friends and I got to meet Cookie for the first time.  She wouldn't come home for another two weeks but she was the right pup for our pack.
To make sure I wasn't lonely, we went to Panera Bread to hang out with all the greyhounds on Sunday, the 22cd.  After breakfast, we headed over to Petsmart to buy me a birthday present.
As a friend was picking up a bag of dog food, I saw the most wonderful bed across the aisle.  While we waited, I stared at the bed with my entire being.  We needed to be together and I had to communicate this to my human.  She saw I was interested but we left the store instead, my heart breaking.  As we headed home, the human realized she forgot to pick something else up so we were going to another Petsmart that was on the way.
I did not let my second chance go to waste.  As soon as we got near the beds, I looked at the bed with an ache in my soul.  I NEEDED THIS BED.  Needed it.  The human was starting to get the message.
"Do you want to go look at that bed?"
So we did.  I had to make it clear that I wanted this bed more than anything else in the world.   Even though it was on the shelf and  had another bed under it, I climbed into the bed and got comfortable.  She called the daddy…the conversation started off with "YOUR DOG…."  and then lots of laughing.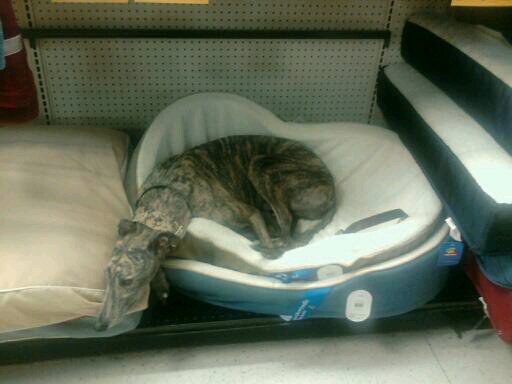 "How much is it?"
"$99.99"
"He's worth it.  Get it."
When we got home, I climbed into the bed and stayed there for 17 hours, ignoring everything around me.  I didn't eat, drink, or pee the entire time.  I did eventually get up, went potty, and then ran back to the bed.  For 36 hours, I refused to do anything but sleep in the bed.
It was the best bed ever….until one day it wasn't.  About 4 months after we bought the bed, I was aggressive with my digging in it and shredded it.  Once it was broken, I couldn't sleep in it.  The humans took me back to petsmart to see if I wanted another.  No….the moment had passed….and I had discovered memory foam.  And Body Pillows.  And Pillow Pets…