December 7, 2008 – It was a dark time for me.  I had just lost my home because I had done something horrible.  Really horrible that I just am not ready to talk about.  It is probably the worst thing a dog could do.  Being returned for peeing in the house?  That is nothing compared to what happened.
She Who Must Be Obeyed was looking for a new partner after losing her minion Reko Toughie to undiagnosed liver disease.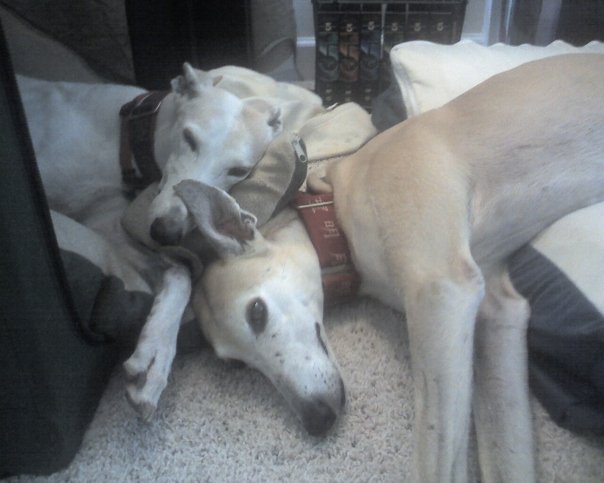 I needed a new home.  A home with no children.  No small animals.  Greyhound Savvy people.  People who understood dogs.  People who understood that as much as I loved to cuddle, I needed space to learn how to be in a home.  People who understood that I went from the track, to a home, to a kennel, and was not handling any of it all that well.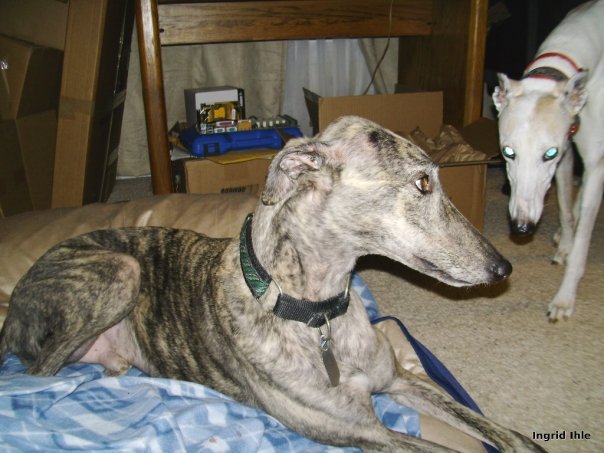 I remember that Sunday.  The Daddy had come into the kennel and was asking about various hard luck cases.  Did they have anyone who was a bounce back?  Kitty was 12 years old and very picky about who she was willing to share her life with.  She liked me.  She liked me a lot.
The the female human came in.  She was shy, a bit hard to get close to, and kind of indifferent to it all.  She wanted to like me but couldn't.  She missed her Toughie and wasn't ready to love again.
In about an hour, I was in their van and heading to my new home.  My life was going to change forever.   They would learn that I was accident prone.  The next morning, I fell down the stairs and had to go get stitches.
It took a couple of months but I became loved by both my humans.  I learned how to cuddle and that I enjoyed snuggling with humans and hounds.  I learned how to fetch humans for Kitty when she wanted something.  Cookie now does the same for me.
To celebrate my gotcha day, a professional photographer was hired and I went to one of my favorite parks for a photo shoot.   She has some nice shots of me and I will be sharing those in a bit.  The problem was I had not been to the park recently and had way too much pmail to get through and it conflicted with her work.
Cookie was in the Apex Christmas Parade this weekend.  I would have loved to go but the humans decided to be paranoid and worry.  I would have to walk quite a ways to get to the float and they just didn't want to risk me getting hurt.  Cookie was upset about leaving me.  She cried the entire trip there.  She got to hang out with the Holly Springs Hounds and that relaxed her.  I cried without her!  And then she cried all the way home.  We kissed as soon as she got in the front door.  You don't realize how much you love someone till they're not there.
Cookie was wearing a Ruffwear pack and they had LED lights on her.  The parade was after sunset so she was all lit up!  She doesn't like wearing antlers or santa hats so she had jingle cuffs on her feet and let another dog borrow her jingle collar since his human forgot his Christmas gear.   The parade was very fast and she had to jog almost the entire way!  My human came home and asked for her rimadyl!  Greyhounds are not known for their stamina but Cookie must be part border collie.