I really should not complain because the low temps have allowed me to do a lot more than normal in the summer. The humidity is still high though and that is oppressive to all of us.
It is 70 at noon, on a rainy day in NC.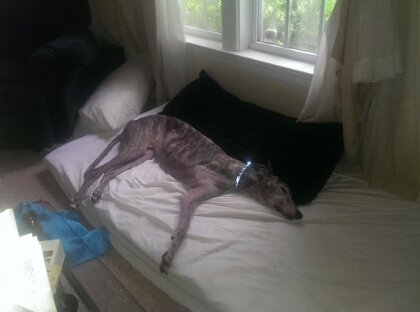 I am catching up on sleep.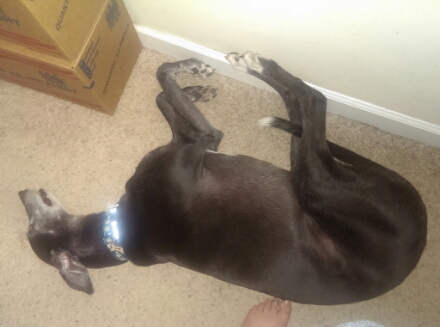 This is why we have muddy foot prints on the walls.
On a sad note, today is one year since Deuce, the Great Dane got his wings. Joyce was a bit more active on the bone cancer Yahoo group. Deuce rallied like we had never seen a dog do before and he lived almost 3 months after severe complications derailed his recovery. A kind note to Joyce today would be appreciated.
We are excited to announce that Grandma is moving to NC. She went home to pack but left Cookie and me completely inspired at what is possible when it comes to training humans. We have really started working hard with our humans and seeing some payoff. She Who Must Be Obeyed would be so happy with my progress. Dinner off their plate is not routine but becoming that way. I have been working on this for FIVE years. It is so nice when patience and persistence pays off.
Cookie and I are both models for Triangle Greyhound Society on the new website! Cookie is a natural in front of the camera. I tease her a lot but she really is a classy girl.
Now for years, we have been told there is a path that runs along the Neuse River in Smithfield but could never find where to park. Well, while driving around with Grandma and exploring, we found it! Now we have yet another place to sniff and pee.
I signed up for Walk for a Dog app and although it shares all my data with anyone in the pet industry, it also donates money to local animal
and rescues in my area for every mile we walk. I really like having a log to show what I can accomplish. It shows speed and an actual map of your walk. Big brother is watching me with my consent. Orwell would be horrified.