And I spent a good portion of it at the vet. First, Dr Huff needed lots of kisses. Second, My webmaster harness has left me with what looks like an ANGRY! bruise but Dr. Huff thinks it may be a contact allergy. I have worn my harness for 4 years with no issues.
So now I have to go clothes shopping to find a comfy t-shirt to wear under my harness. He said to wash my harness more frequently with the mildest soap we can. I have been informed a new webmaster has been ordered for me since my current harness is actually about 6 years old. Miss Kitty used it after a neck injury. We even have our first webmaster from around 2002 which is all neoprene.
I gained two pounds which made my humans happy. They started feeding me canned food again. I am back at 60 lbs. I like the canned food.
Finally, there is the potty issue. I have been having a hard time making it through the night lately. Not just peeing in the kitchen, poop too. It upsets me a lot and every time it happens, I let my humans know as soon as I see them that I had an accident in the kitchen. When I have to pee, it is a crisis. Since recovering from my spinal cord injury four years ago, this has been a known problem. My humans will be typing in the alarm code and my bladder is screaming "too late!".
Dr. Huff said with my history, not to really worry and just try to keep me on a schedule. I do not show any other signs of neurological issues. Bladder control was the hardest thing to get back and took a year. Any time I got excited, I would leak.
Finally, the best part, we went out for Chinese food! I had beef and broccoli. It was the first time I ever had Chinese and it was amazing. Broccoli and carrots, the mystery meat, and the amazing sauce.
This is me helping serve the food.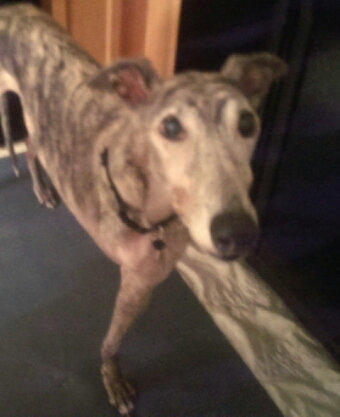 The week started off great with a trip to Panera. We met some new greyhounds we had never met before. Pixie was there too but we did not spend much time with her. There were two greyhound puppies to play with. Sage and Smokey.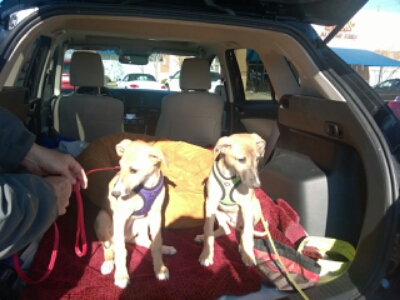 Monday brought rain. Tuesday had more rain. And today, even more rain with maybe a thunderstorm this evening. I hope Santa is prepared.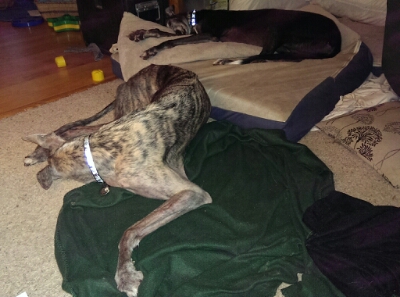 We are bored playing with our puzzles. Bored, bored, and bored.
I have been told the sun will return on Christmas day. This should mean a walk in a park. And lots of pictures.