Or staples. With a mild concussion.
I am on the mend. Staples will be out no later than Monday.
On Monday, October 20, the morning was crisp. Cookie wanted to play. I bounced around with her for a little bit and then ran for the ramp. Cookie thought I wanted to race and she pursued. I was in the lead and greyhounds, most greyhounds, love to be first. It's a compulsion. So Cookie bumped me. Hard. We were not going very fast, about 15 to 20 mph but my head went into this: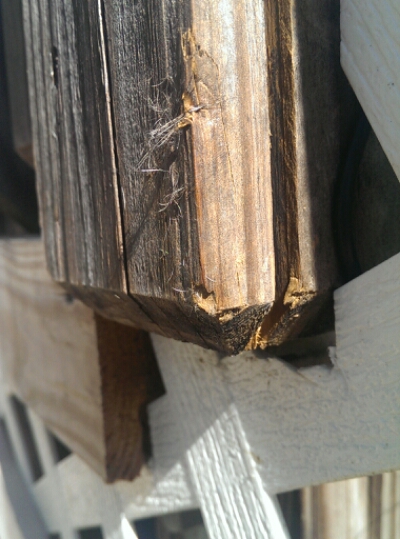 You can still see my fur on it. I also broke a small chunk of wood off.
I saw stars. I wanted to puke. And I wanted to win. It took me a couple of strides to get back with it and then I bumped her almost as hard and reached the top first. And then I had to show the humans I was hurt. It did not bleed much at first but then my nose started to bleed. After the humans were aware of my injuries, I headed to the front door to wait for my trip to the vet. I have had to get a lot of stitches, glue, and staples over the years. I know the drill.
But it was 20 minutes after my favorite ER closed and an hour before Dr. Huff was seeing patients. The vet techs were in though and said come on over.
I was an awesome boy. I did not complain at all while they disinfected and cleaned out my wounds. I peeled back a good flap of skin on that corner and put a gash on the top of my nose. The bloody nose took hours to stop.
No broken bones at all. The vet techs all cheered me on for needing staples while having fun. Who knew that they would have to do this for me at 11 years of age and a year and a half after my amputation? I am still here and still me, slightly accident prone. Dr. Huff gave me 20% off for being a frequent flier too.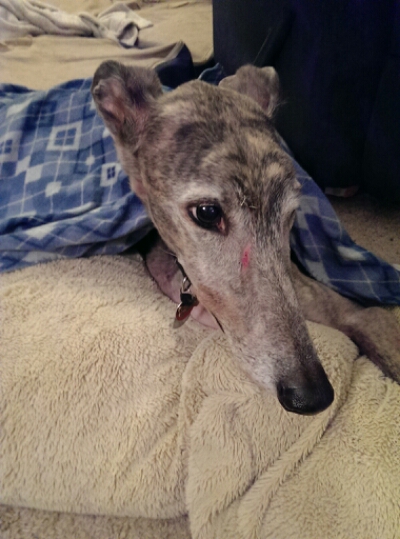 This is me tonight. Scab has fallen off and I am so ready for the staples to come out.
We looked at getting me a Frankenstein's Monster costume but they were all a little silly. I will probably wear my pirate hat on Halloween.
Cookie is going to be a Viking with the Mommy.